Do you want to distinguish your purchase even more from the ordinary? Then let us personalize your notebook. Your name, your initials, your holiday destination... even a logo is possible. 
Standard possibilities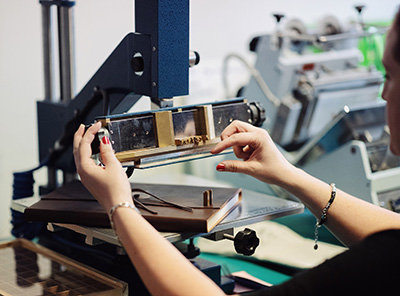 Standard you can deboss your initials. On the product page of the notebook you want to buy you can indicate you want it personalized and provide your initials. This will then get passed to us when your process your order. 
The font size and type will be determined by us, depending on what looks best for the size of the notebook vs size of the text. We also determine the position of the test based on what is possible and looks best. For initials this is usually the lower right corner. If you have different ideas, then please contact us to discuss possibilities.
Extra possibilities
More text
Besides initials it is possible to print more text like your name, a favorite phrase, or holiday destination for example. One or two lines are possible. Because the maximum number of characters differs per notebook it is not possible to automatically include this in your order. Please contact us and we will discuss the possibilities and price.
hotfoil print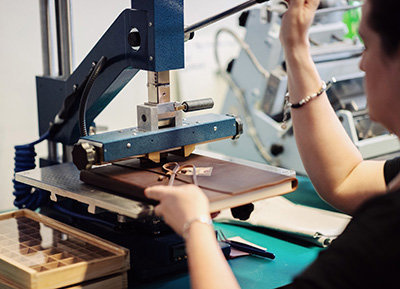 Besides blind debossing we also offer the possibility of hotfoil printing. A special foil is placed between the printing block and the notebook. The combination of heat and pressure binds the foil to the leather leaving a beautiful colored imprint. We have several different colors of foil like silver, gold, red, blue. Contact us for possibilities.
Logo
Is is possible to print a logo on a notebook, calendar, photobook, or guest book. But this requires the manufacturing of a high quality brass mold. Because of the costs of the mold this usually is too expensive for printing just one book. But f you have several books you would like to be printed, it is a very nice and unique possibility. 
Business to Business
When you want to order multiple copies of a notebook for your business we can of course help you too. We love to help you select and print the books. Please note that most of our leather notebooks are manufactured manually by small artisan Italian companies. So larger quantities take a few weeks to order and manufacture.