Okay, so maybe we are a bit different compared to most pen stores. For starters, we won't carry anything we don't like ourselves. A little bit of stubbornness perhaps. This might have to do with our background: as weird as it may sound we did actually start off selling Art Deco and Jugendstil antiques. Because... well, you can guess, we like Art Deco and Jugendstil. The elegance of the last great style periods is also what inspires in handwritten instead of keyboard typed. And that traces back to our name.
Bit it is because of this we don't carry all the usual suspects of brands. We figure you can easily get those at most of our colleagues so hopefully you won't blames us too much for this. We also have an almost masochistic preference for the underdog and 'the hard way of doing things'. As a result we tend to carry less well-known brands. Sometimes this entails we have to build the market for a brand in our region almost single handend, as was the case with our flagship brand Laban. Sometimes we are lucky and a new brand just has a flying start, like Narwhal.
We also value personal relationships. And that also determines the choice of the brands we carry. At one time a large well-known brand ignored us completely for 45 minutes on a international trade fair. When we said something about it they just told us to make an appointment at the front of the booth, while at that moment several employees were doing nothing. Whether it is smart business wise or not, we would never consider carrying that brand anymore. Principles is another little thingy that guides it although sometimes gets in the way ;-) An so our yearly visit to the Paperworld fair is more of a series of personal meetings: an good espresso at out Italian friends at Manufactus; catching up with father and son from Laban; and a lunch or just good coffee with new contacts like Endless, or old ones like Diamine.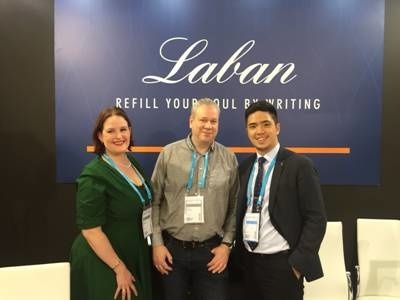 Petra and Sjoerd from Scrittura Elegante, and Mark from Laban
Most of our suppliers are relatively small companies of which we have met the owners at least once and regularly 'talk' to via email or whatsapp. And those conversation are not necessarily about fountain pens. This characteristic of our business is also fully exploited by Petra who combines it with her passion for Italy. She has visited many of the workshops of our Italian friends like Bortoletti, Legatoria Koine, and Manufactus. Just the desired trips to more distant destinations like Taiwan or India tend to get blocked by the more business minded half of Scrittura Elegante.
Petra, as the face of Scrittura Elegante, embodies our values anyway: a little stubborn but ever so charming, honest, and extremely approachable. That hopefully shines through in the way we do business. For example, we do our best to make every order feel like a gift to yourself. And if you have a question or problem...just say so. We are not scary. And if you temporarily cannot order a product? Sorry, but that means it is really out of stock. We will not fool you with vague or absent stock information. Nor will we share false expectations on delivery times. Although we do make a mistake from time to time too: this one time we thought that a stock delivery would come in in time for us to already update the website with this stock, it immediately bit us in the ass. We experienced the longest delay in stock supply ever. Every time we had to tell a customer their order actually wasn't in stock yet felt as a personal failure and increased our stresslevels.
Of many of our brands we also own exclusive rights in an international region, like Bortoletti, Laban, Ayush, Magna Carta. Merely competing on prices just doesn't seem as a good idea to us, although you as customer might disagree ;-) But eventually something has to give when you only compete on price.
So that's it:
We won't carry anything we don't like ourselves.
We prefer the underdog and 'the hard way of doing things' which leads us to lesser known brands.
We value personal relationships.
We conduct our business in an honest, and extremely approachable way.
We go for exclusivity.
Do you have a tip? A brand you think fits our values? An improvement in our way of working? We love to hear from you.
Petra and Sjoerd