Magna Carta is a family business. The six of them are involved in the process of creating a fountain pen from start to finish. We have had the chance to do an interview with Hiren Kanakhara who started Magna Carta and tells you more about his brand. Out of love for their product, they keep everything in-house, from the manufacture of the resins and metal parts to even the nib they make themselves for many of their lines with the greatest care. They do the entire production line, assembly and testing in-house. Making pens is a tender love for them in which care is the most important ingredient. They do not describe the making of pens as a job or their profession, but as a passion. Every pen that leaves the company is pre-tested by the family members to ensure smoothness. A Magna Carta Pen is therefore not a possession but you are a keeper for generations to follow and enjoy this beautiful writing instrument.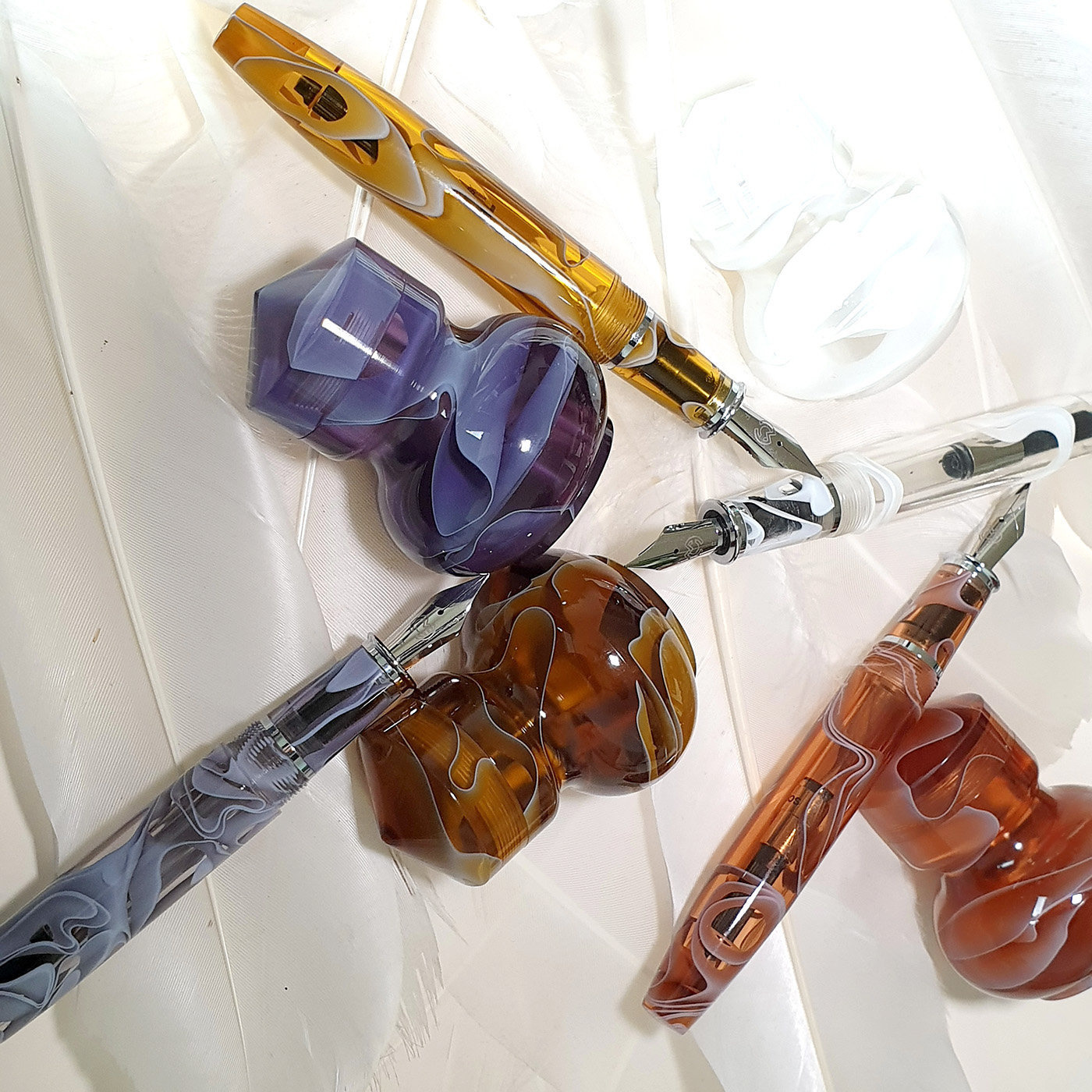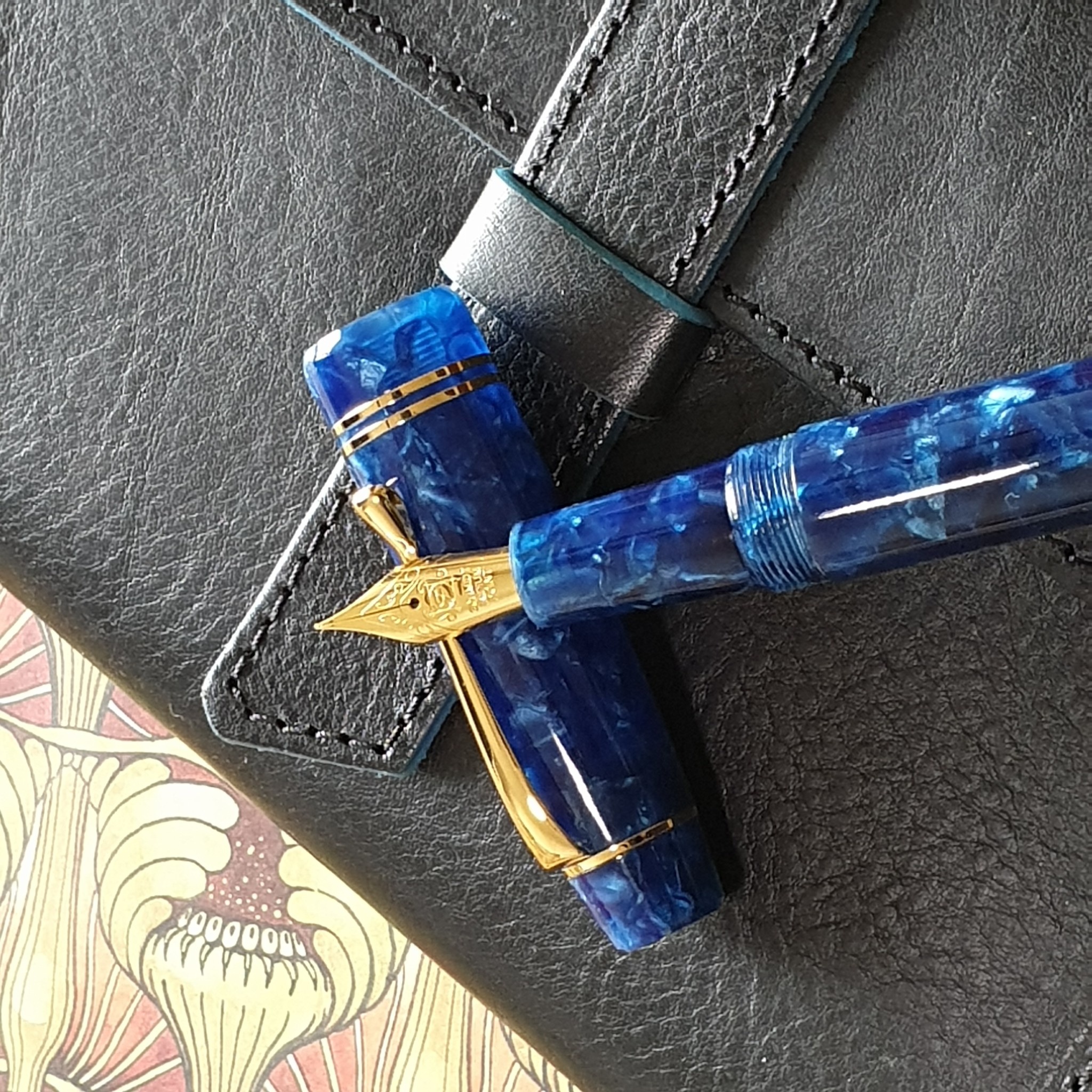 The interview we had with Hiren Kanakhara:
Hiren can you tell us who is behind the Magna Carta fountain pen collection?
As you know this is my family business we are total 6 people from my family working in this company. Basically all 6 peoples ideas are involved in it. Mainly my uncle and me are working on pen designs.


Why did you choose the name Magna Carta?
In end of 2013 I have decided to start my own brand and at that time I was searching for a brand name on internet which would have some meaning as well as history behind it. So during that search I have found the Magna Carta and I have presented the name and meaning to my team.  When they have heard this everyone said "100% perfect". So again I can say it is our joined decision.


What inspires you to create new series or products?
I can say it is self inspired for all the Magna Carta pens.


What are the things you look out for when creating new pens. Trends, colors, styles...
First of all I look what colors I like and are popular by Indian and foreigners. Second I try to make a pen shape which is a little bit different than other brands to try add more aesthetic with help of PVD* coating. Also I try to give each series a different color of raw material. And of course the filling system plays a huge role in it.


What is the creative process of making a pen?
The creative process starts with selecting the color which is in trend. After then we can sketch the design and make CAD for the pen. Then CNC machining and we make a new pattern and select colors of raw material. We are using the most modern technology like CNC lathe and CNC engraving and few conventional SPM for our own use.


You create a lot of the pen in the house. What are your specialties?
The specialties is the acrylic raw material and second engraving is my strength and of course PVD* on trims.


Can you tell us a story about a pen that is special to you or holds a great story?
The elements series is very special for me because before doing the Elements series we were only doing a Cartridge converter filling system. I have seen a Pneumatic filling pen during the LA pen show on some vintage realer table. I have asked few question to this Gentleman about this filling system and he has showed me some broken pens too.
After coming back from the LA pen show first I have done the research on filling system and make some sketch to help me understand how it works. Once the CAD was ready I was under the impression that I could get a ready made rubber sac. But I don't find a fitting solution anywhere and I had to developed locally.
Then we have started doing machining and again I was in that impression it need same type of machining which we are doing for other pens. But there I was wrong, it needed more precise machining other than cartridge/converter filling system. So it took me long time to finish the first prototype. But I can say during this development journey I learn lot of things that is why this is very special pen for me and favorite too.


How do you see the brand evolving and what is on your mind for new creations?
Always we are working on the creation of new raw material and new filling systems. In very near future we are launching an Ebonite Feeder for cartridge convert pens. Mid of 2021 we are in planning to launch a pen with # 8 size nib # 6 nib in titanium.


What is PVD?
A PVD coating (Physical Vapor Deposition) is a very modern technique that can be used on metal parts. During this process, use is made of condensation of atoms or molecules from a gas or vapor. A wafer-thin layer is created and the material is much more resistant to scratches from the outside. They are also better protected against corrosion.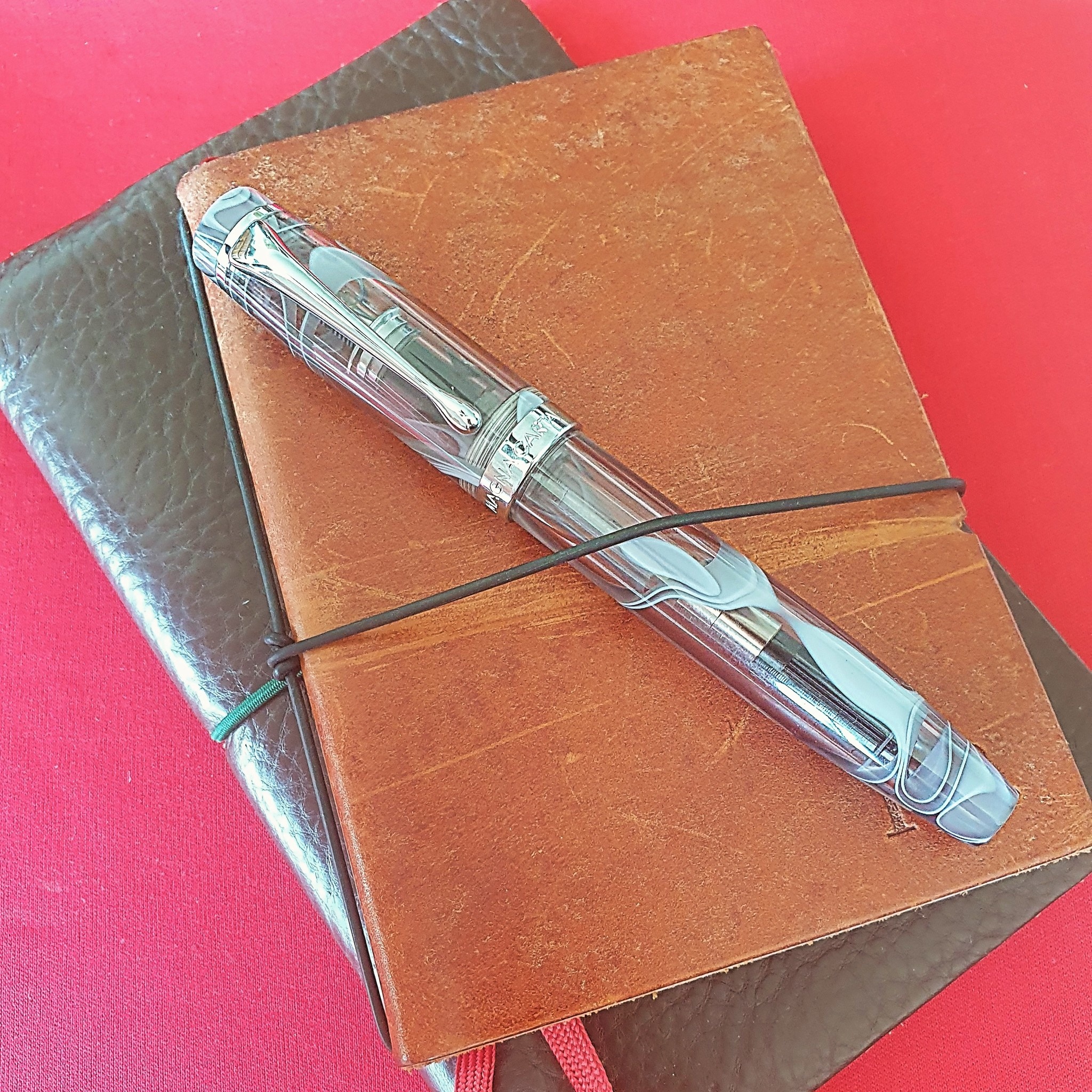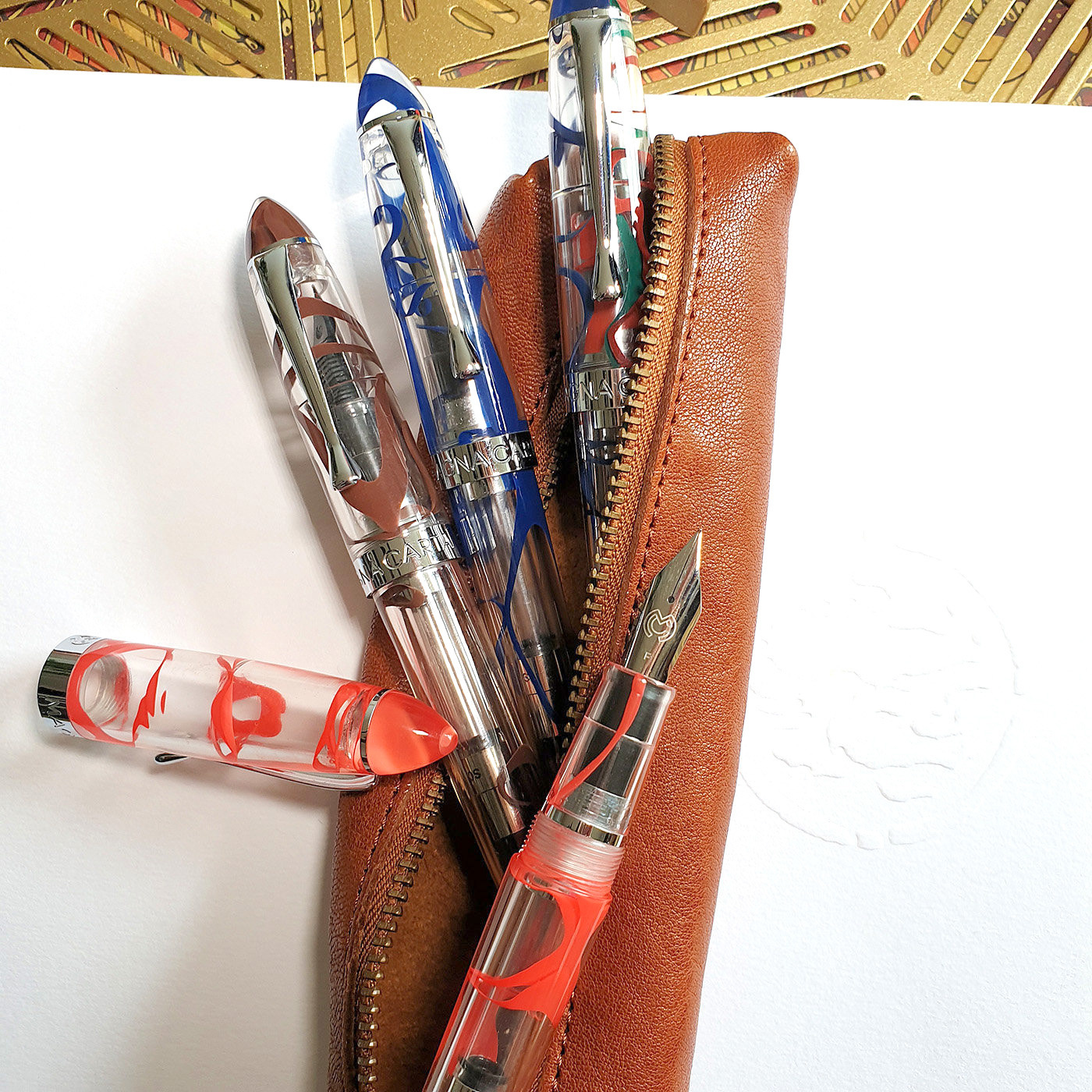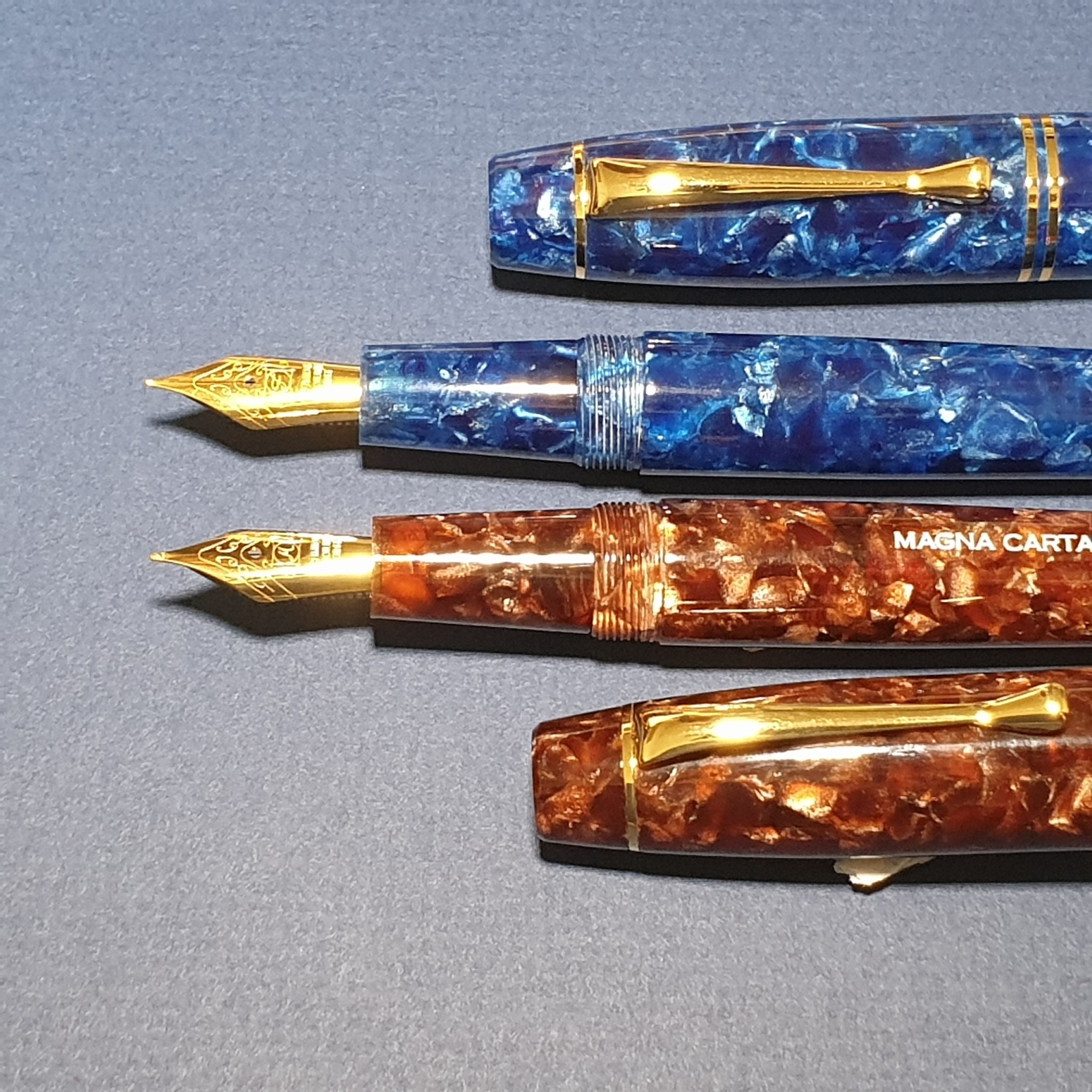 Just some short fun facts:
What is your favorite nib size?
#6 is my favorite


If you could just make one color resin what would it be?
It is RED color.


What pen can never ever leave the collection?
Magna Carta Oxford.


Demonstrator pens or not see through?
Not see through


Your favorite ink color?
Royal Blue


Do you match ink with your pens?
Not really because every time I am using the pen which under testing. So my office table is always full of pens.


Your favorite pen color?
Red with gold trims.
Discover the Magna Carta collection.