Our go to ink brand: Van Dieman's fountain pen ink
At Scrittura Elegante we try to bring special brands to you. Brands that we have a special relationship with as well. We are especially proud to stock Van Dieman's ink as the only dealer in Europe. Why? Well, first of all because we really really like the brand, the colors, the inspiration for the colors. Second, because of the story behind it: Van Dieman's originates from Tasmania, Australia and is named after Anthony van Diemen, the sponsor of Dutch explorer Abel Tasman's travels which led to the discovery of Tasmania. Tasmania is now named after the discoverer Abel Tasman, but used to be called Diemans Island. So we like the special connection between Tasmania and The Netherlands. The third reason is we really like the owners of the brand: Belinda and Peter Rix. So who could be better at telling the story of the brand if not the owners themselves. So we asked them...
Who is behind the Van Dieman's products?
We are a husband and wife duo, Belinda and Peter Rix. We have been together for 13 years, have two wonderful children and have been running Van Dieman's together for 4 years now.
Why choose the name Van Dieman's?
Peter's family originated here in Tasmania, which was originally named Van Diemen's land after Anthony Van Diemen, the dutch governor who funded Abel Tasman's expedition that discovered our beautiful state. Tasmania is a land of wild, rugged beauty and untouched extremes. We love the natural wonders here and that is why we named our inks.
Do you make and bottle the inks in Tasmania?
Yes. We mix, bottle, and label our inks by hand, here in Launceston, Tasmania.
What inspires you to create new series or products?
Belinda is the creative mind behind all of our inks. She has a wide range of passions and interests. Her greatest inspiration comes from Tasmania itself, its environment and nature, its animals and plants. But any area of interest is a source of inspiration for new colours.
What are the things you look out for when creating new ink colors. Texture, mixtures application. What is the creative process of making ink?
Belinda uses inks in her own artwork, and this is the beginning of decision making. She thinks of colours she herself would use and then seeks them out in reality. A new series being created is a combination of filling a need, constructing a theme, and then the arduous task of fine-tuning the product.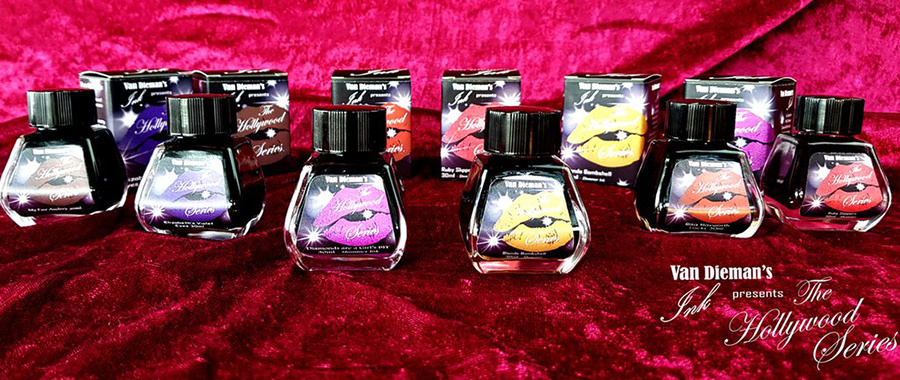 Who is the mastermind behind the Hollywood series and why? Are you into old movies?
Shortly after the original series became popular with a close-knit community of supporters, Belinda took the reigns in the creative role. She used to watch and love old movies every Sunday with her mother as a little girl growing up, and loved the idea of inks based on famous Hollywood movies and actresses. She loved the iconic glamourous style in the 40s and 50s. Women were beautiful in such a more authentic way back then.
You just introduced the successful series of Tassie colors. 4 colors for each season inspired by Tasmanian life. I feel it is a different approach to mixing colors and applications than before. Is this so?
Yes. Tassie Seasons was a huge undertaking for us, and was quite a challenge to bring out. One thing we love about Tasmania is the distinct four seasons that you don't notice in most of Australia. Although all 16 inks are entirely fountain pen friendly, the series varies a little from the earlier ones in that the inks were designed for art first, and fountain pens second. The artwork on the box itself was one of Belinda's made using the inks from the series.
With all the special locations and occasions used in the names of your ink, can you tell us a story about an ink that is special to you or hold a great story?
When we first moved to Launceston in the winter of 2016, and lived on a crest overlooking the old Victorian heart of the city, we were awed by how beautiful the city looked in the early morning, blanketed in fog and crisp frost coating every surface. Launceston is situated between the North and South Esk rivers, which together create a thick fog in the winter months. The inner city is also nestled between two ridges that prevent the fog from escaping. The unique geography creates some of the thickest fog in the country, and an amazing site we had not seen before living here. Tassie Seasons Winter Colours Launceston Fog is a personal family favourite for this reason.
How do you see the brand evolving and what is on your inky mind for new creations?
We have a lot of plans in the works at the moment. We will be changing our bottle design soon, to reduce material usage and support a Tasmanian packaging company, and we are in the process of reformulating our inks to use more Australian ingredients and further improve the quality of our inks. A Van Dieman's Pen is also on our horizon and may be launching sooner than you might think. And Belinda has more than a couple of new ink series in production and planning stages, which we doubt will be long before coming to completion.
How many colors do you have in collection at this moment?
54 colours at the moment. But plenty more yet to come.
What was the first Van Dieman's ink color?
Devil Black was our very first. But the original 14 were all made more or less as a single creating.
Thank you so much for sharing your story with us and our customers.